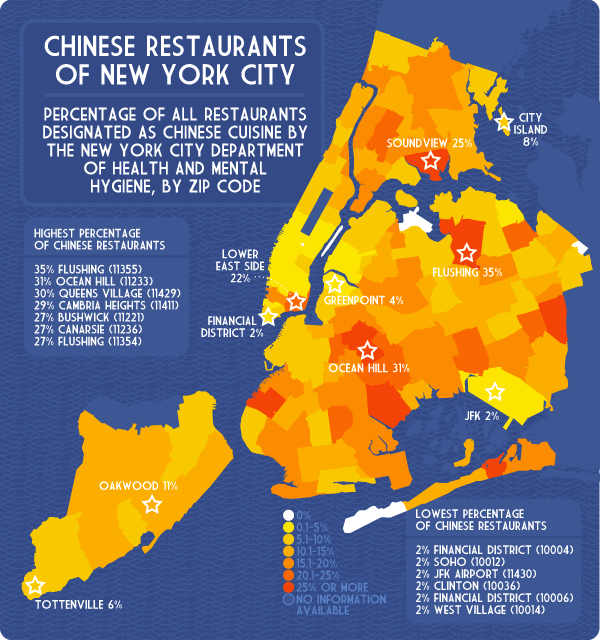 [Image: Chinese Restaurants of New York City, map by Dorothy Gambrell via
Very Small Array
.]
For some reason, I'm feeling Chinese takeout tonight, and while lusting after various MSG-laden spicy sauces I remembered coming across this handy map on Very Small Array. While it looks like my local chances of finding a Chinese restaurant in my Clinton Hill ZIP code are reasonably high, the odds of surviving the meal are only almost stacked in my favor relative to other parts of the city–Clinton Hill's median violations are are slightly higher than the City median of 16.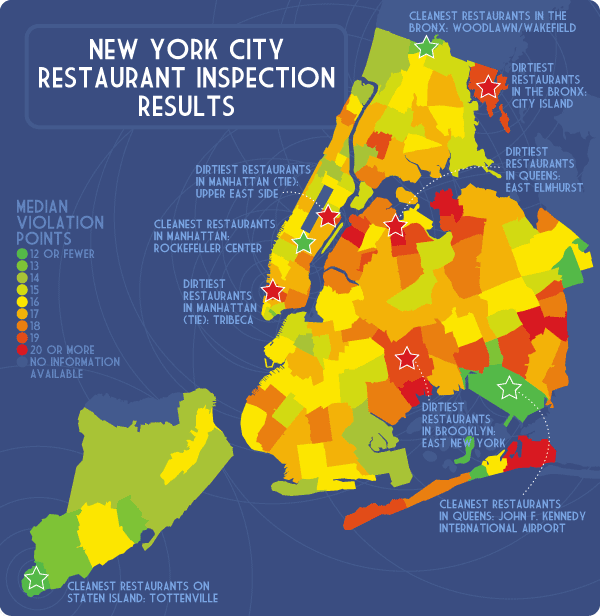 [Image: New York City Restaurant Inspection Results, map by Dorothy Gambrell via
Very Small Array
.]
In the name of orange chicken (or spicy bean curd??), this is a risk I'm willing to take.
Also interesting to note, from the same NYC Department of Health and Mental Hygiene data, is the fact that the percentage of Chinese restaurants in any given area of New York City declines proportionally with median income. Curious about how this information might look in terms of absolutes and restaurant location, a quick googling of "Chinese restaurant" produced this:
While maybe not the clearest results, some big clustering action in Lower Manhattan, Midtown and the Upper East Side is somewhat obvious, as is the relative dearth of Chinese food in Dyker Heights, Borough Park and Flatbush, among other parts of Brooklyn in particular. Sorry Bronx and Staten Island, you didn't fit.
I'll spare you my unsubstantiated social conjecturing on why wealthier areas might be safer bets for finding Chinese food–dinner's getting cold.